Willow Brae Pallets is again celebrating the Christmas Season by selling trees made from recycled pallet wood. Your local pallet recycling company believes strongly in not only being a part of the local community, but giving back. While we already do our part in creating sustainability in the manufacturing industry through our pallet recycling program, Willow Brae Pallets wanted to find a way to make a positive impact on the environment in a more tangible way here in the Waterloo Region. That is why we began partnering with Trees for Woolwich in our yearly fundraising campaign.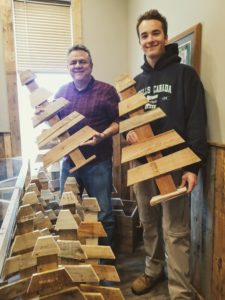 Our pallet-wood trees are made of board taken from used pallets, and are crafted by the K-W Woodworking & Craft Centre, with one of the members kindly donating his time for this cause. Each tree is sold for $20, and all of the proceeds are donated to Trees for Woolwich in their work increasing the tree coverage in the Township of Woolwich in a way that enhances the rustic and agricultural nature of our township as well as the surrounding areas.
Trees of Woolwich was founded in 2011 in recognition of the heavy decrease in tree coverage. Currently, Woolwich is estimated to have 14% tree coverage, whereas the environmental ideal is 30%. Many more trees are needed in Woolwich, and Trees for Woolwich is taking this problem head-on! Trees for Woolwich also works to educate residents about the benefits, both to our environment and to human activities, of planting and maintaining trees.
If you would like to purchase a tree, they are available here at Willow Brae Pallets, as well as the Elmira and St. Jacob's Home Hardware locations. They make great Christmas décor, both indoor and out.
Merry Christmas!
-Nathan Martin-
Business Development Manager