In today's global supply chain, we need to be concerned about invasive pests hitching a ride on product packaging, since they can damage the beautiful forests and plant life in Canada.
In order to address this concern, the International Plant Protection Convention (IPPC) created and enforces standards for international trade. Specifically, the IPPC created the International Standards for Phytosanitary Measures (ISPMs). These standards reduce the likelihood of non-native bugs in wood packaging which could cause damage to the local plant species.
ISPM-15
The packaging industry looks specifically to the ISPM-15 program. Packaging producers must treat wood used in shipping to destroy all pests in the wood prior to use. This significantly reduces the spread of pests.
Countries that adopt the ISPM-15 standard agree that manufacturers must use only treated wood for all imports and exports . Currently, there are three options for certified treatment: conventional heat treatment (HT), dielectric heating (DH) and methyl bromide fumigation (MB). Canada only allows heat treatment and dielectric heating treatments.
Both the U.S. and Canada have phytosanitary programs for certified producers who construct wood packaging that meets the ISPM-15 standard. Accredited agencies inspect producers and issue stamps that identify the wood packaging material as treated according to the ISPM-15 standard.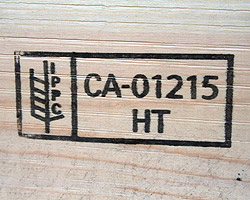 The wood packaging industry across North America works closely with the national governments' plant health organizations of United States and Canada, including the North American Plant Protection Organization (NAPPO). The wood packaging industry is an active partner in working with the regulatory agencies and scientists that manage invasive pests risk and the development of national standards for the implementation of ISPM-15.
We play a critical role in providing ISPM-15 certified wood packaging to exporters shipping to international markets. We are also strong supporters of the objectives of ISPM-15 in safeguarding North American forests.
Learn more about how the pallet industry is protecting our forests at Nature's Packaging.